Last Updated: May 16, 2023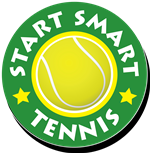 Start Smart Tennis
No current sessions are available.  For additional information on the program, call the Athletics Office at 540-433-9168.
Start Smart Tennis is a developmentally appropriate introductory parent/guardian-child based tennis program. Pairs work together to develop individual skills. The program prepares children for organized tennis in a fun, non-threatening environment.  Start Smart Tennis prepares children and their parents for organized tennis without the threat of competition or the fear of getting hurt. Age appropriate equipment is used in teaching ground strokes, serving, volleying and running/agility.
Harrisonburg Tennis Patrons (HTP)
HTP is a membership organization that offers pickup play, outdoors and indoors. They also have a yearly tournament in the city in late June. For more information on HTP visit www.htp.usta.com. 
Where are the tennis courts in the city parks?
Why Play Tennis?
Tennis is fun – Take a lesson from your childhood, when exercise meant meeting friends, playing, running, laughing, and hitting a rubber ball.
Tennis is the sport of a lifetime – the USTA Annual holds National Championships for players aged from 12 to 90 years old by gender and age division.
Tennis will make your body stronger – tennis builds "core strength" for use in other sports and has the capacity to burn 493 calories per hour (on average).
Tennis is a good social outlet and good for your career – There are fewer better or easier ways to meet new people or get to know someone than by trading forehands or matching strategic wits on the tennis court.
Tennis play promotes a healthy heart – The Cleveland Clinic Heart Center, ranked #1 in America for heart care, calls tennis an ideal sport for a healthy heart.